My independent work builds on 20 years of work experience and previous staff roles with bi- and multi-lateral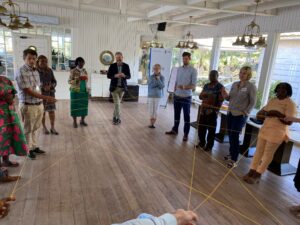 agencies and NGOs – UNDP, UNICEF, GIZ, EU, and CDA Collaborative Learning Projects, working in and across five continents. I have worked for operational organizations as well as an applied researcher, facilitator, adviser, trainer, manager, mentor, and lecturer in support of implementing agencies to improve the effectiveness of what they do in complex settings.
Frequently, obstacles to achieving progress towards socio-political change are rooted in internal organizational cultures, power imbalances, wider systems blockages, or individual resistance. Understanding and addressing those is as critical as understanding the external environments we work in. And I am convinced that one cannot do this type of work well without a good sense of humor, a healthy dose of sereneness and modesty, and the ability to laugh about yourself at any time. These are personal qualities and values that I value and take into all my partnerships and engagements.
For more information on my background and sample projects, please see my CV
"Anita is a valued and sought-after member of the Programme Support Team of the Peacebuilding Support Office (PBSO). In this capacity, she led a comprehensive synthesis review of the Peacebuilding Fund's evaluations, and produced an excellent analysis which contributed significantly to the development of the M&E component of the Fund's Strategy 2020-2024. Anita helped us think through issues such as how to improve guidance on how to measure achievable change in peacebuilding and how to increase emphasis on learning. Anita's in-depth knowledge of the peacebuilding field, her understanding of the work of the United Nations, and her vast experience covering several geographic areas make her an asset for PBSO. In addition to being an excellent and seasoned professional, she is a pleasure to work with –patient, collegial, friendly and always ready to provide support and advice."
Simona Santoro, Peacebuilding Support Office, United Nations Department of Political and Peacebuilding Affairs